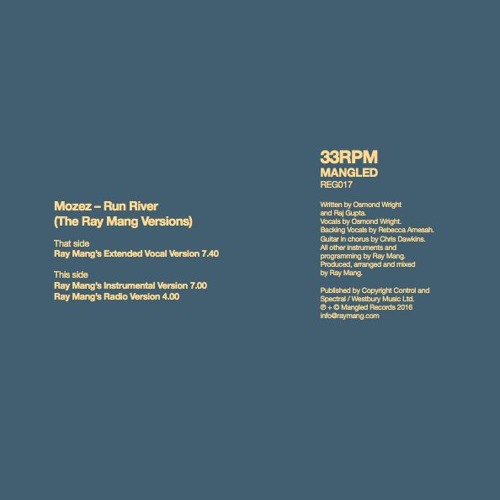 Mangled Records 017 12″ 180g Vinyl
Release date : 11.04.16
Distribution : Juno
Mozez – Run River (The Ray Mang Versions)
A. Ray Mang's Extended Vocal Version 7.40
Bi. Ray Mang's Instrumental Version 7.00
Bii. Ray Mang's Radio Version 4.00
Written by Osmond Wright and Raj Gupta.
Vocals by Osmond Wright. Backing Vocals by Rebecca Amissah. Guitar in chorus by Chris Dawkins. All other instruments and programming by Ray Mang.
Produced, arranged and mixed by Ray Mang.
Published by Copyright Control and Spectral / Westbury Music Ltd. ℗ + © Mangled Records 2016
Mozez (Zero 7, Nightmares On Wax) teams up with Ray Mang for some gospel disco infused versions of Run River, a track from his new album Wings.
After the success of their collaboration with Mozez' girlfriend Mari's track Free a couple of years ago, Mozez invited Ray to do some versions of something from his new album Wings recently released on Numen Records. Run River with its powerful gospel vocal harmonies and disco tinged guitar seemed the obvious choice. Presented here on heavyweight 180g 12" vinyl in three versions for your listening pleasure with digital to follow.